I'm invested in Cloudflare through my Wifolio-certificate. Pr December 2022 Cloudflare had a share of 2.8% of the Wikifolio. Pr today I lost 46,3% with this position. This is no investment advice.
Cloudflare is a global network designed to make everything you connect to the Internet secure, private, fast, and reliable. (cloudflare.com)
–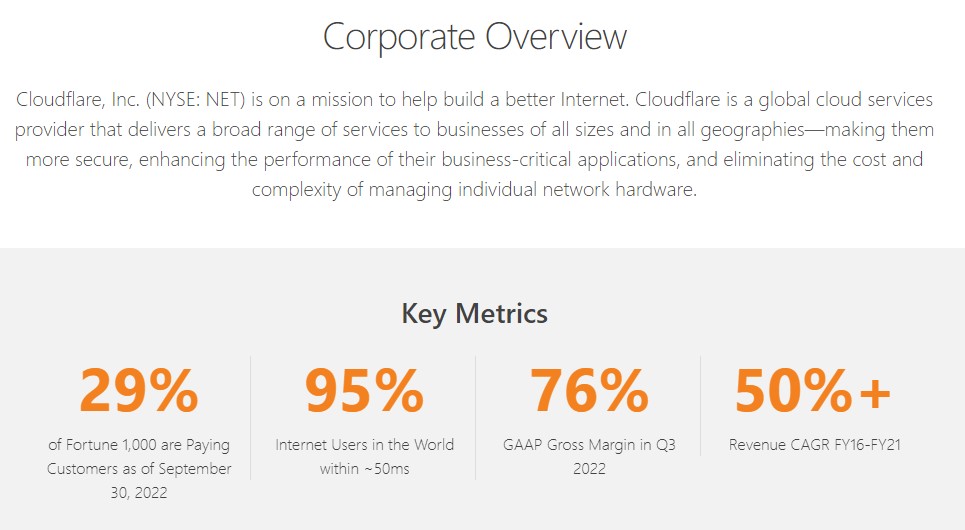 –
Cloudflare has identified a growing market for their services.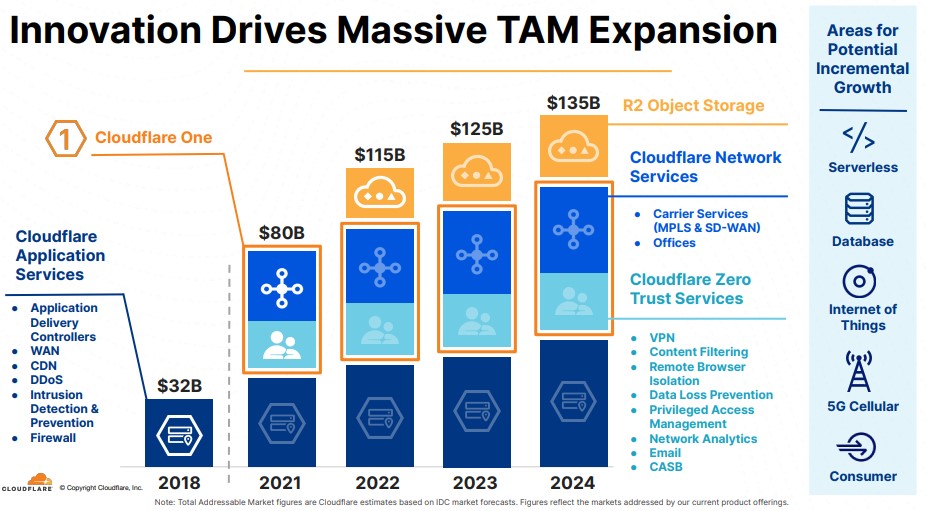 –
Cloudflare had a tremendous revenue growth from 2016 to 2021. The Year-on-year growth for the third quarter 2022 was lower, than the average for the last 5 years, but still impressing. Upcoming reports and revenues will show eventual impact from lower economic activity.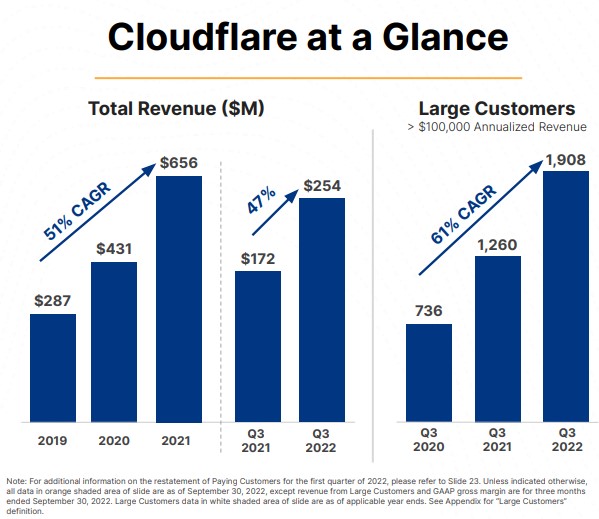 –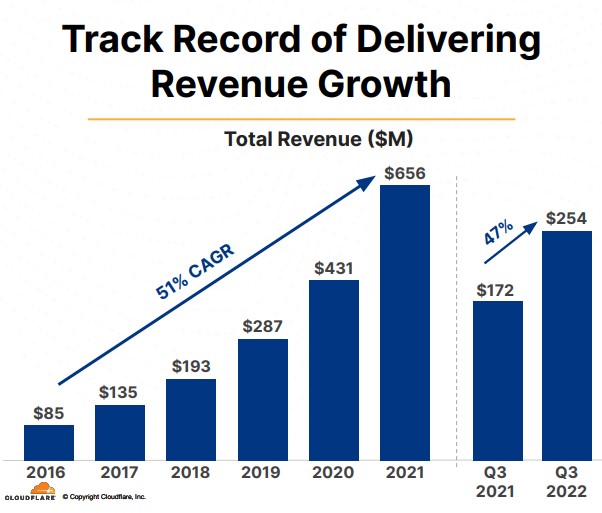 –
Pr today Cloudflare has a strong cash position through convertible note offerings. A convertible note is a debt instrument that is convertible into shares of the issuer or another entity. They offer investors the downside protection of a debt instrument and the upside potential of an equity investment, but in return typically offer lower interest rates than straight debt instruments.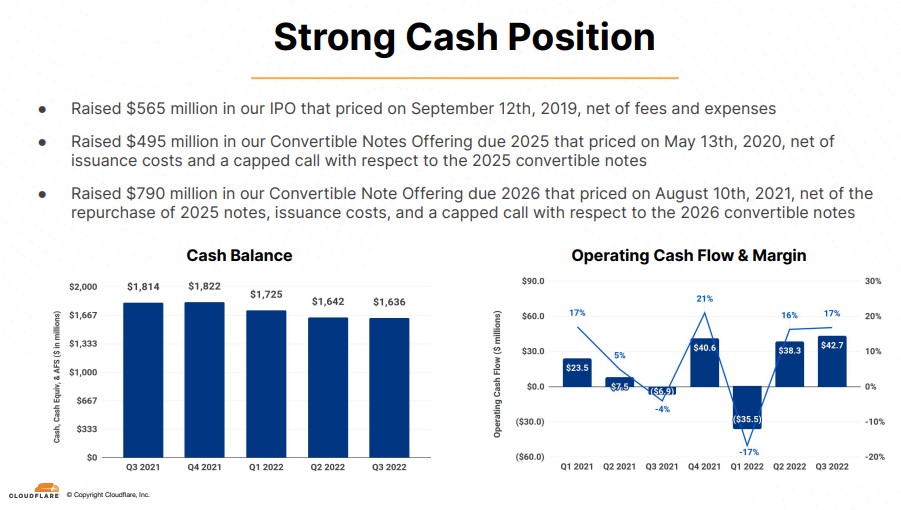 –
The long-term model shows the plan to cut cost-percentage for sales & marketing and general & administrative costs with the goal to increase the operating margin 20% +.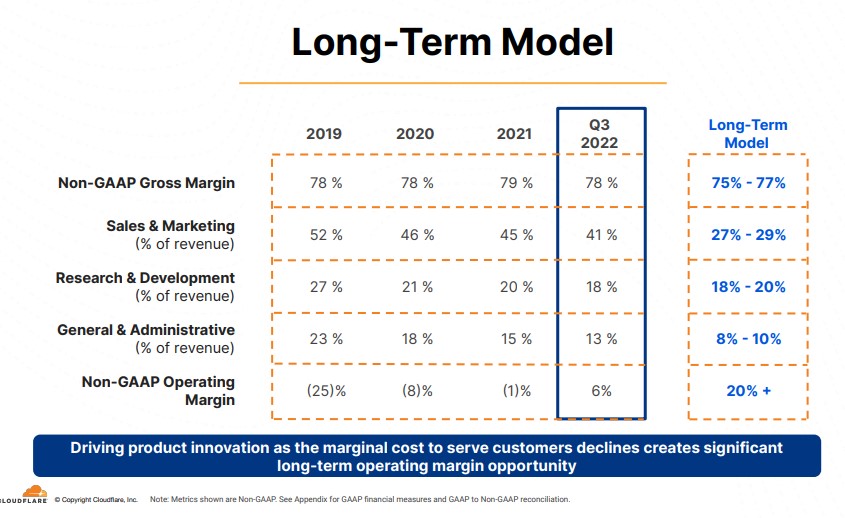 –
I bought Cloudflare as a high risk / high opportunity investment in February 2021. Unfortunately, the stock price development was negative. The upcoming financial reports will show if the company can maintain high growth. It seems that the market has lost the faith for the growing opportunities. The picture below shows a fair value consideration based on revenues.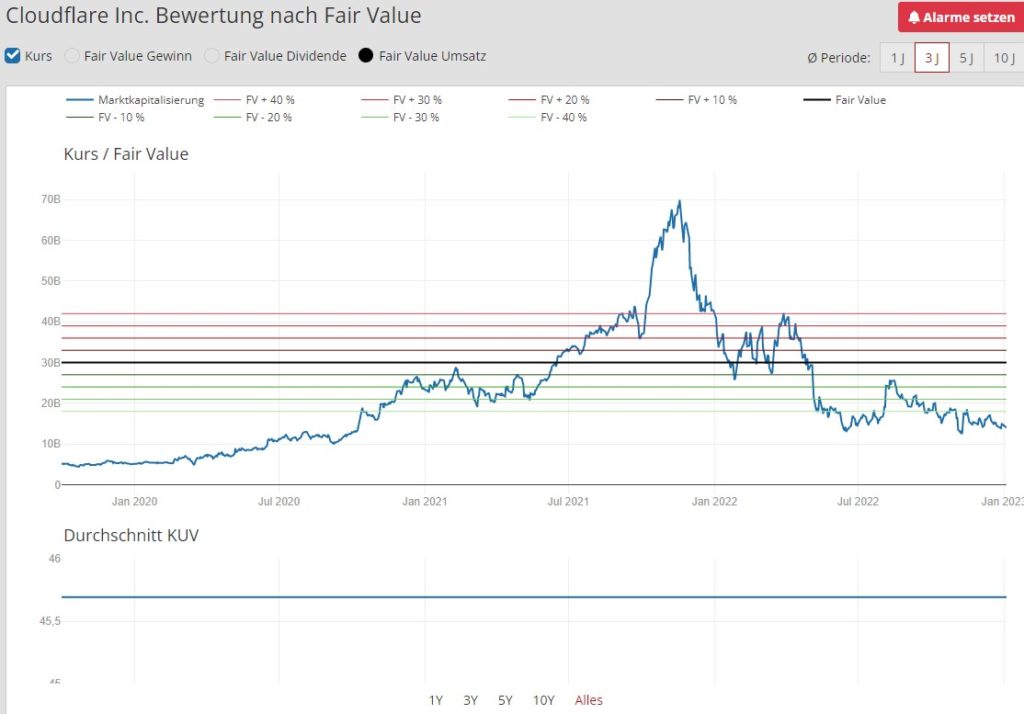 –
Analysts are expecting strong growth both for the final accounts for 2022 and for 2023. I will be interesting to see if we will see positive returns for 2022. For the revenue growth, 48% are expected for 2022 and 35% for the year that has just started. If those expectations will be met, I assume the stockprice will develop positive.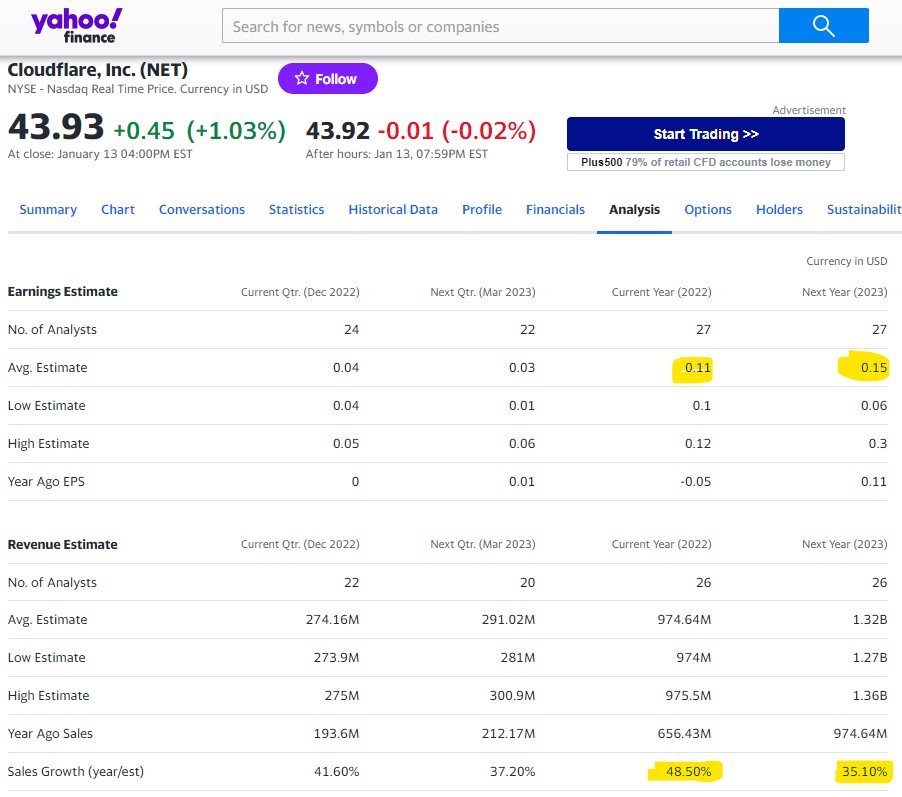 –
My biggest concern is the cash flow situation, extraordinary amounts of cash were burned through the last years, as shown in the overview below. Margin and cash flow improvements will be the basis for an eventual positive stock price development.
–
I have a rule for my Wikifolio that equities with a share lower than 3% and that was hold minimum 1 year will be measured and evt. sold in the next rebalancing period. I will follow up closely if Cloudflare will meet the requirements for sale at the end of the first quarter 2023. At the moment it looks like that my journey with Cloudflare will be over soon.
22nd of January 2023