Status portfolio
No positions were sold since Easter. There are still the same positions in my portfolio. The holding part of my strategy works fine.
While the Technology and the Growth sector was losing market cap in the second quarter, I added to my Satellite positions. I invested, as planned, in the ETF`s , Gaming & eSports, World IT and Momentum.
Since May, I've been considering myself fully invested – the cash level is close to zero.  Monthly savings and some dividends increased my cash level a little bit early in July.
The focus areas for the stock market are still the same as commented in April and May. Covid-19, the war in Ukraine and inflation/recession leading still to uncertainties for the Financial markets.
The strategic thoughts from May are still reasonable.
Satellite positions in my portfolio have a bigger share than 35%, and are therefore exceeding the range for satellites. The main difference between Core and Satellite positions are the risk and the holding period.
The Satellite position in World IT is not necessarily more risky than my core positions, but I`m considering it more like a short-term position. Therefore I`m comfortable with the share of 39% for my satellite positions.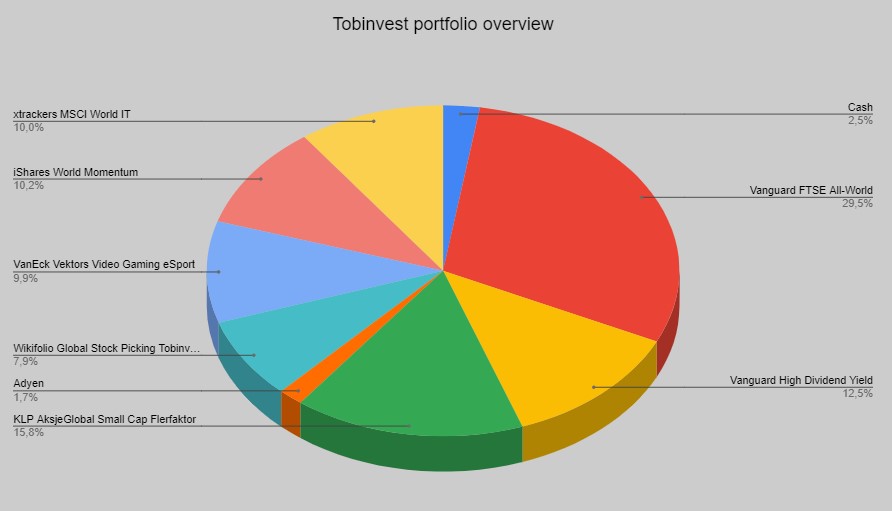 Rebalancing & purchase plan
Tobinvest purchasing rule
For future purchases, I want to have as a minimum two of following conditions in place. The Nasdaq 100 index should be below 13330, the S&P 500 below 3772 and the CNN Fear & Greed index below 20. Nasdaq is below this level at the moment, but the two other indicators are above these levels.
In the long-term it is planned to cut the Nasdaq index as an indicator.
This rule will apply until we have new All time highs for the S&P 500.
Rebalancing plan for the coming months
Established the following goal for my allocation.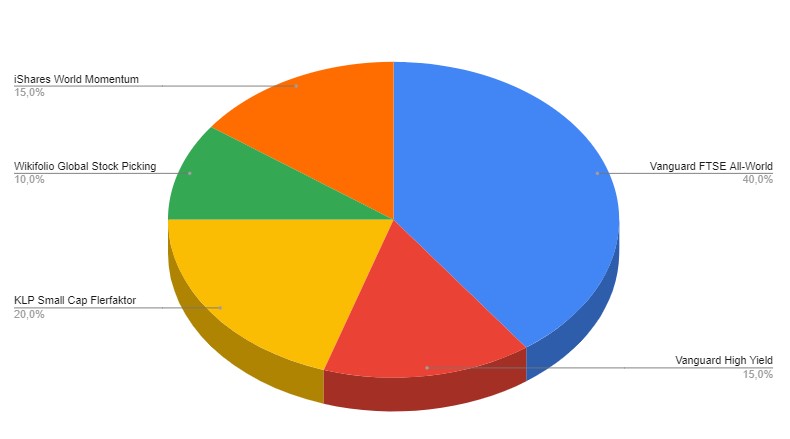 The portfolio will include some passive investments such as the Vanguard All World and the Vanguard High Dividend Yield. I choose the distributing alternatives for both to have a positive cash flow in the portfolio.
I consider KLP Small Cap, World Momentum and my Wikifolio as active investments. These investments should be an opportunity for extra growth.
New downturn after bear market rally
I will do purchases the next months, if I get a signal from two of the three indicators above. The cash is on different accounts and I want to add at my current positions instead of establishing new ones. Prioritized choices can be KLP Small cap, Vanguard All World and the Satellite ETFs. I`m assuming that the growth sector will be the winner, when we get a rebound.
Rebound
In case of a rebound the next months, it is planned to set stop loss levels for the Gaming & eSports ETF and the World IT ETF. The stop loss levels should guarantee that there will be no losses on these investments. When stopped out, the free cash should be reinvested in Core positions. This plan will lead my portfolio closer to my goal for equity allocation.
Fully invested
Nevertheless it is not planned to build up a bigger share of cash. Monthly savings can be invested directly into funds that I consider as cash substitute. That will start from September. For this purpose I`m mainly considering NorQuant Multi Asset. I also considered Vanguard High Dividend Yield, Berkshire Hathaway B and Sissener Corporate Bond. These funds would be short-term investments, therefore they will be classified as Satellite-positions in my portfolio. Further it is planned to liquidate these funds again when I get signals for a downturn or a rebound as mentioned above.
I prefer NorQuant Multi Asset since this fund invests actively in stocks, interest bonds and commodities. It was less volatile than the (stock based) alternatives above. In case that I don't get a purchase signal from the alternatives above, I'm more comfortable to hold this fund for a longer period. The NorQuant Multi Asset fund managers adjust the asset allocation actively, therefore it is more flexible than e.g. Sissener Corporate Bond.

Berkshire and Vanguard High Dividend Yield are interesting alternatives. I assume that NorQuant Multi Asset will decrease less than those in a downturn and therefore be a better cash substitute.
| | | | |
| --- | --- | --- | --- |
| Returns (30.7.2022) | YTD | 3 months | 1 month |
| NorQuant Multi Asset | +1,59% | -2,25% | +0,46% |
| Vanguard High Dividend Yield | +6,87% | -3,13% | +4,08% |
| Berkshire Hathaway B (EUR) | +10,58% | -5,5% | +11,71% |
| Sissener Corporate Bond | -1,07% | -2,26% | +0,31% |
I expect that the share of the amount invested as a cash substitute until December will be below 5% of my portfolio. In the big picture this is just a minor change.
As earlier, this rebalancing assessment is more a purchase plan for the coming month than a hard cut. I'm either waiting, with a low share of cash, for signals for the different scenarios as described above.